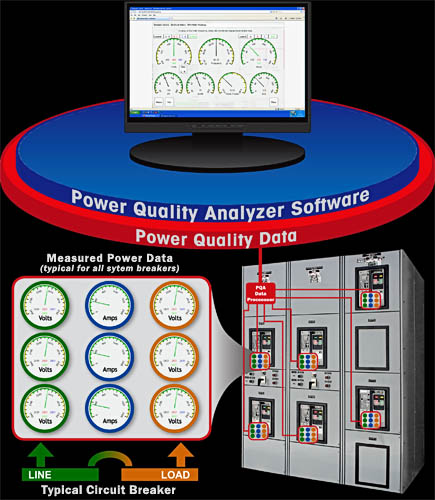 Why use the Benjamin Power Quality Analyzer (PQA)?
The Benjamin PQA implements a single-point ground reference.

This allows expanded capabilities which provide a system-based analytical infrastructure. By implementing a ground reference paradigm, greater visibility and flexibility is easily achieved. This enables monitoring of neutral conditions as well as insulation breakdown interrogation.

The Benjamin PQA can increase operational personnel safety.

Event logging and subsequent reports are available to demonstrate root-cause analysis. The Benjamin PQA provides answers to a breakers' operation to determine if the breaker is nuisance tripping or tripping due to an actual load issue.

The Benjamin PQA enables complete electrical system visibility by providing infinite details of the operation,

through monitoring of all system breakers, the Benjamin PQA provides a comprehensive analysis of the complete electrical system in parts and as a whole. This assists with specific identification of system problems and allows intelligent decisions for electrical usage. Presently, electrical power quality is relegated to the main breaker and select few processes, which limits the analysis of the electrical system.

The Benjamin PQA enhances operational effectiveness.

Within a given operation, having the viewpoint of the entire electrical system allows the plant to operate more effectively. Currently other product offerings have been unable to provide this functionality due to economic, physical, and software limitations

The Benjamin PQA extends the ranges of current and voltage measurements.

By integrating direct current and voltage measurements, we extend beyond the normal ranges with accuracy to capture transient voltage, overcurrent, and fault current events.

The Benjamin Power Quality Analyzer will recreate how electrical power is measured and utilized!

Never before has a system been able to harness the visibility of an electrical power distribution system. The simple application of Benjamin PQA hardware and software tools truly enhance how every aspect of the electrical infrastructure is viewed beyond the inaccurate summary-level that is available today. This is not "just another metering system". This system is potentially one of the greatest innovative tools for the electrical power industry. This is THE BENJAMIN POWER QUALITY ANALYZER!